More info
---
New Model Dirt Bike 125cc series SX
---
This Pit Bike / Dirt Bike is from the Range Mini MX PIT BIKE, it's a 4 Stroke Engine 125cc LIFAN, developing 8,9hp and renowned for its reliability.
This model is recommended for beginners, the seat height is about 760mm which can perfectly fit for teenager from 10 to 15 years old, its chromoly double reinforced steel frame confirm its reliability and can also be used by adults. The 8,9hp from the 125cc LIFAN engine is adapted to start learning how to drive Motorcycle, however it's a powerful engine which can perform on cross field (Please Check the video upper).
Its chromoly double reinforced steel frame guaranteed quality, this frame is used by many famous brand like CRZ, YCF, APOLLO MOTORS, LMX, STOMP...etc
The maximum weight supported is 110 kg and thus also open to users "Adults".
Its seat height is 76cm ensuring a posture and comfort
The suspensions of the Dirt Bike 125cc MINI MX is an upside dowm 730mm Front Fork in Alloy and a 320mm 1000lbs Gas Rear Shock "Black Edition".
The exhaust is a Pro Gun type (38mm Collector) confirms the good Value / Price .
TECHNICAL CARACTERISTICS
Engine: Single cylinder 125cc 4 Stroke 2015 8,9cv
Carburetor: Carburetor 26mm
Rear Suspension: Rear shock 320mm Hydraulic edition "Black"
Front Suspension: UAlloy Front Fork 730mm
Seat height: 76cm
Wheel Size: 12 inch rear and 14 inch front
Exhaust: Exhaust Type Pro Gun Black
Attachments:
- New Engine Protection ASR Black
- New "Black Edition" Rear Shock 32mm
- Graphic Kit CRF110-S New Model Dirt Bike 125cc series
- Long chain protection
For more information, go to the "Technical" tab
Front Fork 730MM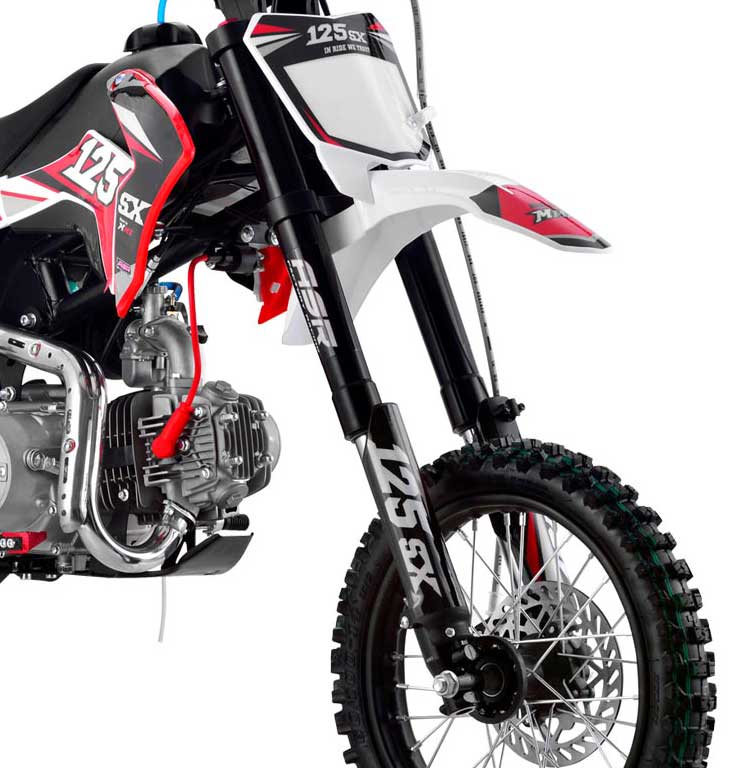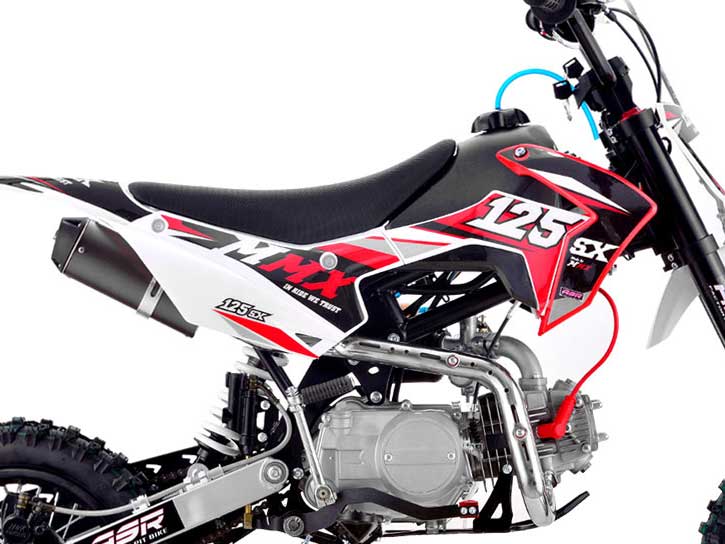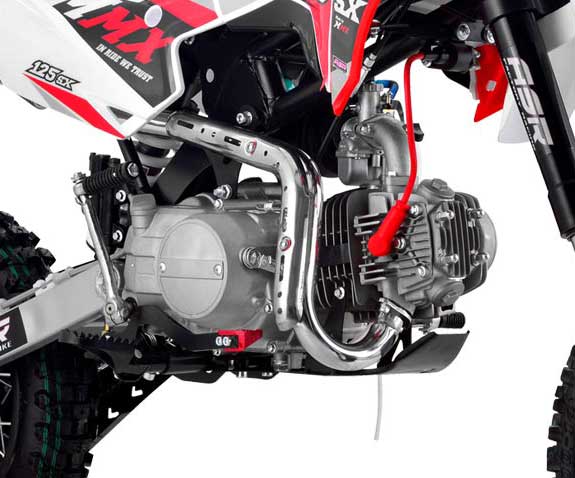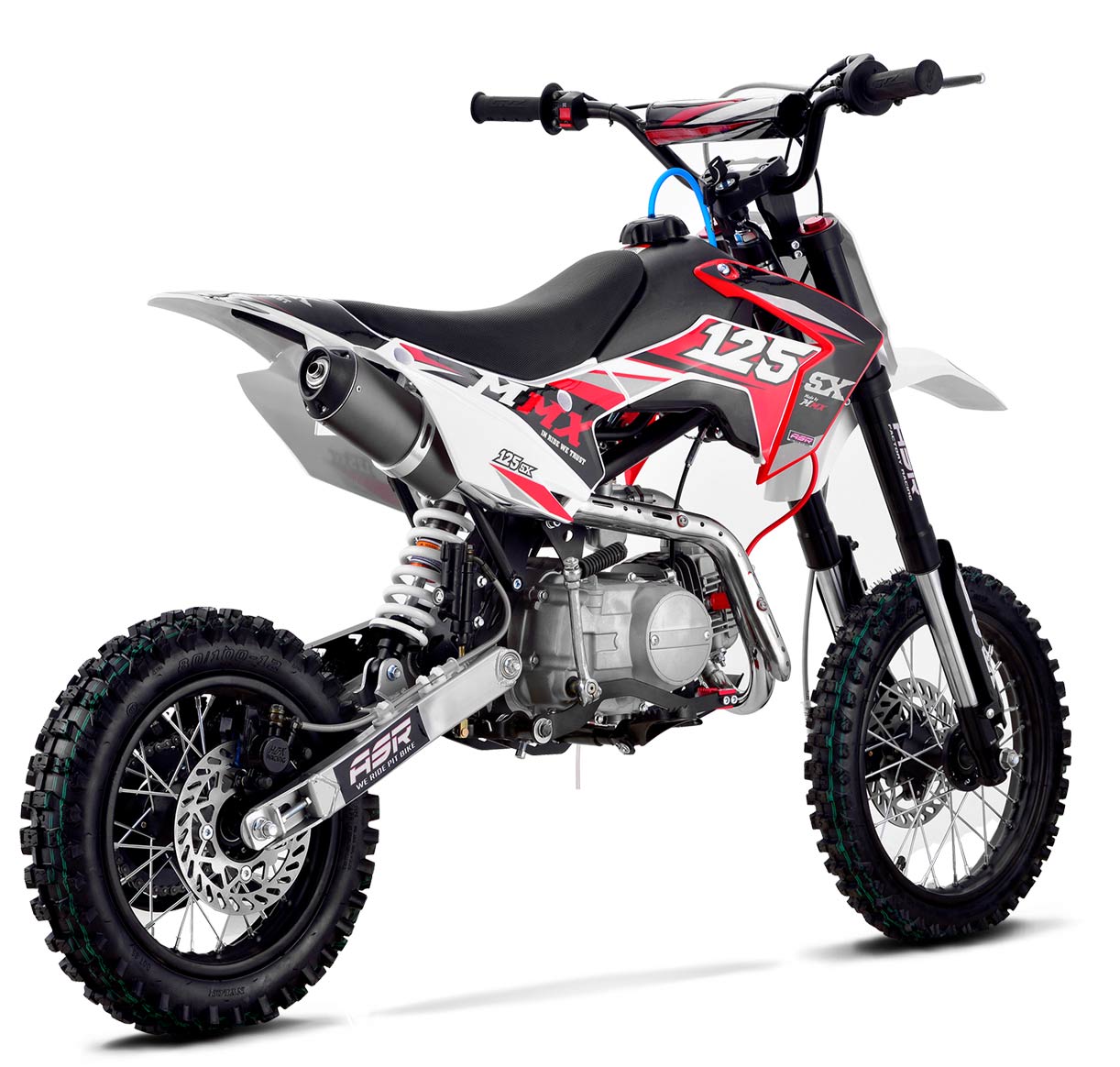 WARNING: - The use of this mini moto pit bike dirt bike is not allowed on the roads.- When you use this mini bike pit bike dirt bike wearing helmet and protection are necessary.
Fourche 735MM pour une position haute de 80cm de hauteur de selle

La nouvelle Dirt Bike SX-125cc est équipée d'un châssis optimisé et de nouvelles suspensions ASR, avec notamment une fourche ASR plus longue en 730 mm ainsi que d'un amortisseur ASR en 325 mm, qui assureront une stabilité et un niveau superieur de maniabilité sur tous type de terrains.
Nouveau Plastique CRF110S et Amortisseur rallongé à 325mm + Echappement Black type PROGUN

Habillée des nouveaux plastiques et d'une nouvelle selle crf110-s , cette Dirt Bike sera se différencier au premier coup d'oeil et affinera l'ensemble de la machine tout en proposant un poste de pilotage plus agréable ainsi qu'une meilleure prise en mains.
Moteur 125cc Lifan 4 Temps Monocylindre 8,9cv

Le 125cc Lifan fait sa réputation sur sa puissance et se forge une réputation dans le mileu Pit Bike depuis quelques années. Sa cylindrée réelle en 124cc et son alésage en 52,4mm est plus puissant que le 125cc LIFAN qui fait 120cc de cylindrée réelle et donc vous fera gagner en allonge et en couple . Amateur de sensation forte et de bon rapport qualité/prix ce moteur est fait pour vous.N'oubliez pas votre rodage sur 2/3 pleins et de vidanger régulièrement votre moteur toutes les 20H d'utilisation. Le moteur contient une huile de stockage à vidanger à la réception.
Roue 12 arrière et 14 avant + Hauteur de selle 80cm

Cette SX 125cc Manuel est adaptée pour les pilotes souhaitant s'initier à la pratique tout-terrain cette Dirt Bike vous apportera tout ce dont vous avez besoin. Toute la particularité et l'avantage de cette version est sa hauteur de selle de 80cm, roue en 12 arrière et 14 avant, fourche 735mm et amortisseur 325mm, elle sera confortable pour les tailles adultes, elle propose une posture agréable au poste de pilotage. Ideal pour une utilisation cross et ballade enduro.
Pour plus d'information, rendez vous sur l'onglet "Fiche Technique"
AVERTISSEMENT :
- L'usage de cette mini moto pit bike dirt bike n'est pas permis sur les routes publiques.
- Lors de son utilisation cette mini moto dirt bike pit bike le port de casque et de protection sont obligatoires
Nos Pit Bike, Dirt Bike, Mini Moto sont non homologuées leur utilisation est formellement interdit sur les voies publiques, et doit se faire exclusivement sur  terrain  adapté à cette pratique ( circuits, terrains ou parcours définis à l'article R 331-21 du code du sport) ou terrains privés à des fins professionnelles par les propriétaires des terrains (activités agricoles, pastorales ou forestières).
L'achat doit être fait par une personne majeur.
Les mineurs de moins de 14 ans utilisant ce véhicule doivent être sous la surveillance d'un adulte.
Les engins de type mini-moto ou mini-quad sont désormais soumis à déclaration auprès du ministère de l'intérieur et devront faire l'objet d'une identification.
Le formulaire de déclaration est téléchargeable sur
http://www.interieur.gouv.fr/Declaration-mini-moto-mini-quad
Une télédéclaration est possible sur le site "mon.service-public.fr"
https://mdel.mon.service-public.fr/declaration-mini-moto-mini-quad.html